This performance was a collaborative with Björk to explore the possibilities of musical expression. This was streamed in the form of 360-degree VR live streaming. AR and VR technology used to produce the live footage filmed using a 360-degree camera to transcend the framework of conventional live streaming. The result was a never-to-be-repeated experimental moment capturing what happens when the possibilities of fusing technology with musical experience were explored. Also, this work is live streamed version, and the final version of this work was launched in Fall as a music video.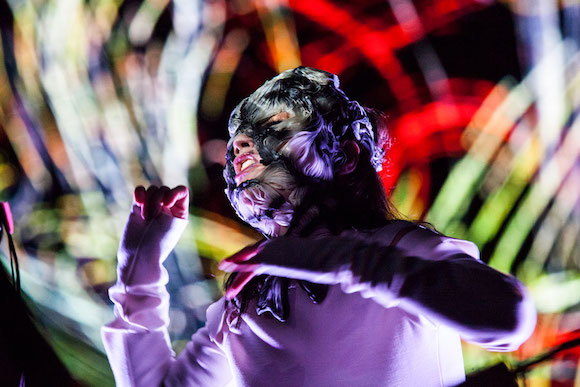 ---
Credits
Björk
James Merry
◯ProjectPlanning / Produce and Production
Dentsu Lab Tokyo
Creative Director: Kaoru Sugano
Producer: Hikaru Ikeuchi | Reiko Kunieda | Kohei Ai | Nobu Miyazaki | Akiyo Ogawa | Jun Kato
Miraikan
Producer: Maholo Uchida
Technical Director: Makoto Seguchi
◯Headpiece Design and Production
Design: Neri Oxman and the Mediated Matter Group (MIT Media Lab)
Production: Stratasys Ltd.
◯Live Streaming Production
Show Director, AR Visual Director, Technical Director, Lighting Designer: Daito Manabe (Rhizomatiks Research)
ARVR Visual System Engineer / AR Visual Designer/Programmer: Yuya Hanai (Rhizomatiks Research)
AR Visual Designer/Programer: Satoshi Horii (Rhizomatiks Research) | You Tanaka (Rhizomatiks Research) | Sadam Fujiokaanno lab)
Camera Tracking Engineer: Motoi Ishibashi (Rhizomatiks Research)
Live Engineer: Setsuya Kurotaki (Rhizomatiks Research) | Shintaro Kamijo (Rhizomatiks Research)
Lighting Support: COLOR KINETICS JAPAN INC.
VR &Geo-Cosmos Visual Director: TAKCOM (P.I.C.S. management)
CG Supervisor: Munechika Inudo (MARK)
Visual Effects Producer: Yoshifumi Sadahara (MARK)
Visual Effects Coordinator: Tatsuya Furuhata (MARK)
Digital Artist: Hisaki Hanuma (MARK) | Yukitoshi Nohira (MARK) | Ryunosuke Sannomiya (MARK) | Go Takahashi (MARK) | kazumasa Kimura (TAKCOMSTUDIO)
VR Visual Producer: Takahiko Kajima (P.I.C.S.)
VR Visual Production Manager: Shuhei Harada (P.I.C.S.)
Producer: Hidenori Chiba (Rhizomatiks)
◯Live Streaming
Live Streaming Producer: Ryo Nagasawa (DENTSU TEC)
Live Streaming Director: Ryo Fukutani (AT Linkage)