Participated as a collaborating artist in the "LEXUS DESIGN EVENT 2019 – LEADING WITH LIGHT" at the Milan Design Week, the world's largest design event, held in Milan, Italy. The exhibition took place at Superstudio Più Art Point, located in the heart of Tortona, a district where creations from around the world gather.
"LEADING WITH LIGHT" is an installation created with robots that move freely in response to human movement in a space surrounded by countless dynamic and exquisite rays of light generated by the latest technology. At the main venue, a graceful and delicate performance unfolds with a robot programmed with the movements of a human dancer using motion capture technology, countless lights, and a single dancer.
This installation resonates with LEXUS's "Human-Centered" philosophy, asserting that technology gains value when it is designed for people. It expresses the infinite possibilities of light as technology, as well as the relationship between technology and humans.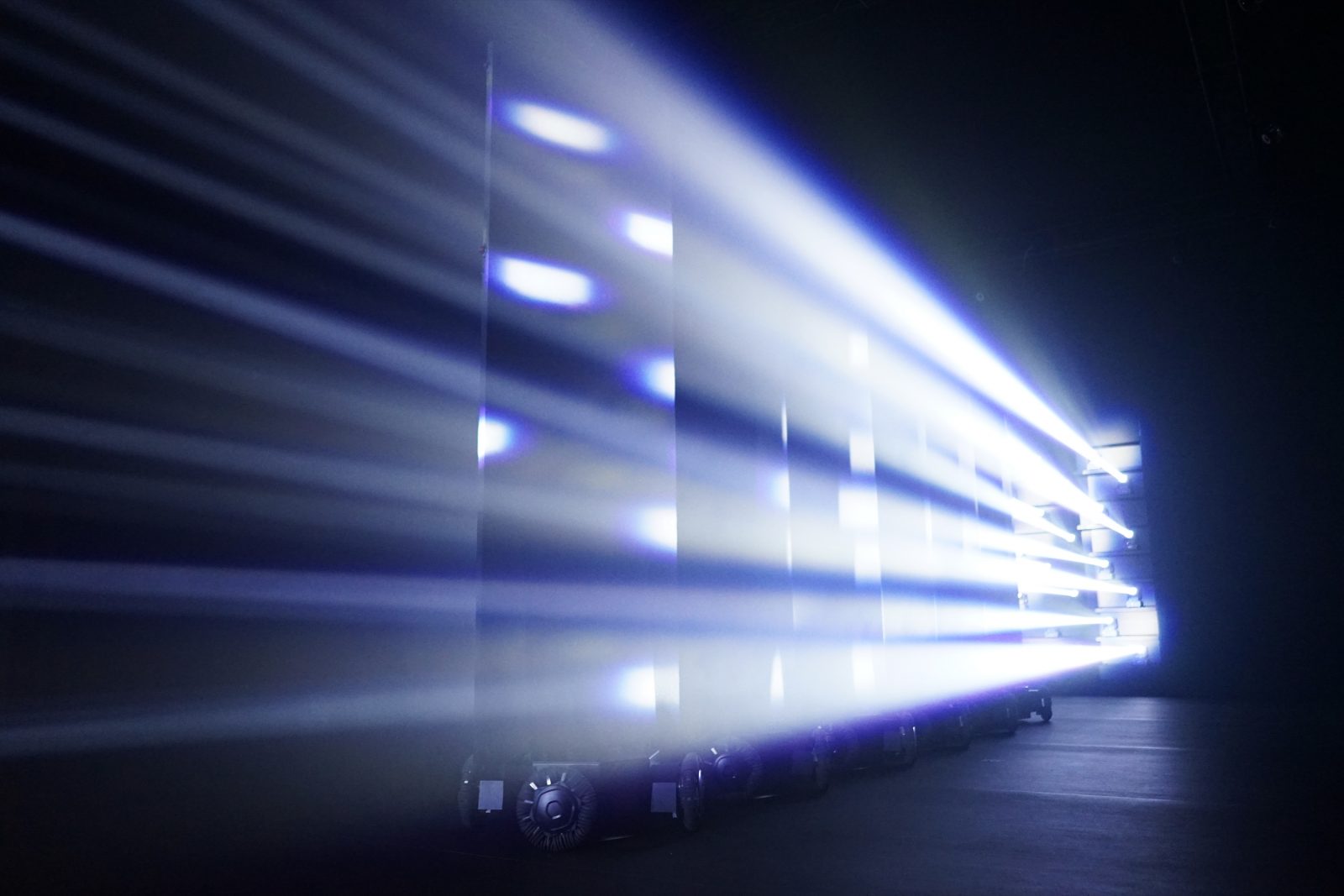 ---
Credits
Cast
YU (ELEVENPLAY)
SARA (ELEVENPLAY)
Greta Cisternimo
Artistic Direction | Music | Lighting | Interaction Design | Software Engineering
Daito Manabe (Rhizomatiks)
Technical Direction | Hardware Engineering
Motoi Ishibashi (Rhizomatiks)
Hardware Engineering | Craft
Youichi Sakamoto (Rhizomatiks)
Hideaki Tai (Rhizomatiks)
Kyohei Mouri (Rhizomatiks)
Yuta Asai (Rhizomatiks)
Choreography
MIKIKO
Motion Performer
ELEVENPLAY
Music
Daito Manabe / Hopebox
Lighting Technical Support
Kunio Tamada (Tama Tech Lab.)
Technical Support
Tomoaki Yanagisawa (Rhizomatiks)
Tatsuya Ishii (Rhizomatiks)
Momoko Nishimoto (Rhizomatiks)
Toshitaka Mochizuki (Rhizomatiks)
Saki Ishikawa (Rhizomatiks)
Production Management
Yoko Shiraiwa (ELEVENPLAY)
Space Design
Takahito Hosono (Rhizomatiks)
Produce
Keitaro Shimizu (Rhizomatiks)
Support
Ayumi Ota (Rhizomatiks)
Eri Suzuko (Rhizomatiks)
Muryo Homma (Rhizomatiks)
Shintaro Kamijyo (Rhizomatiks)
Special Supporting Company
Mitsui Chemicals, Inc.
Production
Rhizomatiks